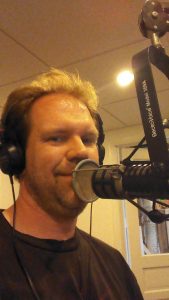 Burrito Bob
Hey, It's Burrito Bob. So I was asked by…well…no one really, I just thought it would look cool, to tell you all a little about myself. I was born and raised on the outskirts of a small town in St. Lawrence County. Growing up on the family farm I would spend countless hours listening to the radio. I mostly listened to what was at the time Top 40 (now 80's music), and telling myself I wanted to be one of those people talking on the radio. As a matter of fact I used to 'practice being one of those radio people'…AKA talking to myself.
After high school, I went to SUNY Potsdam where I starting working at the college radio station in all my spare time from my studies in Communications. Once I received my degree I started working for a small station in Canton NY. Within a few months I got a job in Malone with what was at the time Hot Country 965. I've been working here on and off since 1999, and I wouldn't trade it for anything.
In my spare time I enjoy spending time with my kids doing a variety of activities. I also enjoy TV like The Walking Dead, Bones, Arrow, The Flash, @ Midnight, SVU, Supergirl, Brooklyn Nine-Nine, Castle, Undateable, The Muppets, New Girl, Gotham, Heroes Reborn, Buffy the Vampire Slayer, Smallville, Will & Grace, Monk, Psych, Burn Notice, and more. I'm also into Star Wars, Star Trek, and countless movies; among them The Cutting Edge, Better Off Dead, Imagine Me & You, and Spaceballs. I also have games for the PS3, Wii-U, and X-Box, as well as numerous books.